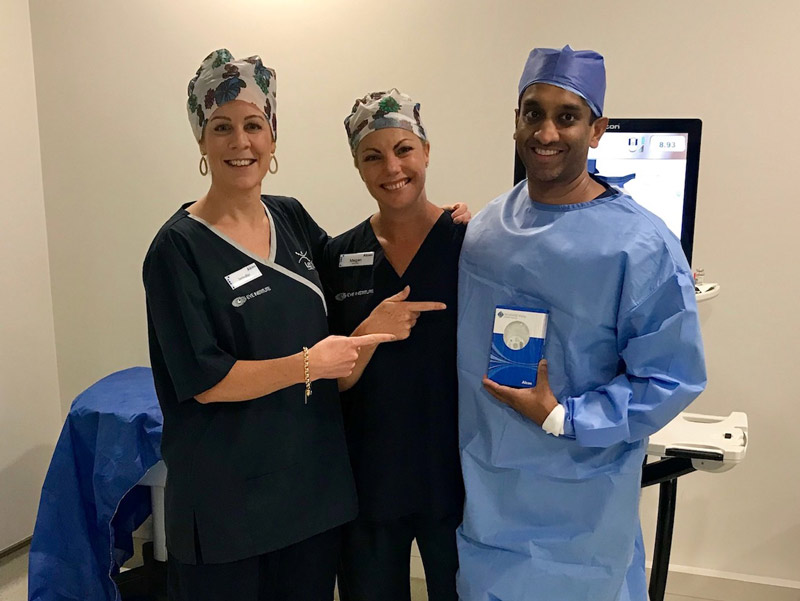 Eye Institute's Dr Subbiah implants first Alcon Vivity intraocular lens in New Zealand!
In December Dr. Shanu Subbiah implanted the first Alcon Vivity intraocular lens in New Zealand. The Vivity is a novel wavefront-extended intraocular lens providing excellent distance and intermediate vision with functional reading vision. Unlike multifocal implants it has minimal side effects such as glare and reduced quality of vision.
Following the procedure Dr. Subbiah said
"Our first patient has done incredibly well, she is almost 20/20 for distance vision and is able to read the newspaper in good light, and she has only had one eye operated upon. I think that this is a lens that is going to fill a huge gap in the vision outcomes for patients with cataract and those wanting lens exchange surgery to reduce their reliance on glasses"
Eye Institute's Dr Shanu Subbiah and Dr Nick Mantell were in November last year selected as the only two New Zealand surgeons to trial the commercial implantation of the Alcon Vivity. Dr Subbiah said it was a great honour to be selected and the successful first Alcon Vivity intraocular lens implantation has been a wonderful achievement.
If you'd like to discuss your vision correction options, give one of our friendly team a call for a chat on 0800 99 2020.