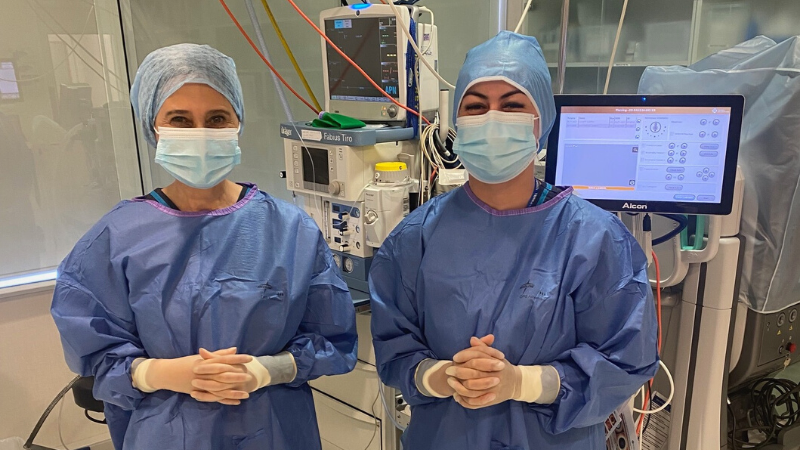 Summer Studentship recipient begins clinical shadowing at Eye Institute
This week, Makayla Kahi began her 10-week long summer studentship at Vision Research Foundation, mentored by scientific director, Professor Helen Danesh-Meyer. This is the first summer studentship launched by Vision Research Foundation. The studentship is proudly supported by Pūhoro STEMM Academy and is sponsored by the June Gray Charitable Trust and supported by Eye Institute.
Makayla Kahi (Ngāti Kauwhata) is this year's Vision Research Foundation summer studentship winner. Mikayla is a second-year medical student at the University of Auckland, a previous Pūhoro STEMM Academy scholarship recipient and a tutor lead at the Pūhoro STEMM Academy. Makayla has been involved with research at the Liggins Institute and with the TBI Health Group NZ.
The Vision Research Foundation summer studentship includes both clinical and research components. For the clinical component Mikayla will observe and participate in clinics and observe eye surgeries at Eye Institute.
The research findings will contribute to a hui to be held in 2023, with a focus on Māori women at the secondary and medical school level. This research will be undertaken under the umbrella of Puāwaitanga – Wāhine Māori Surgical Mentoring Programme to support young Māori women medical students on their journey in undertaking surgical careers.
"I'm excited to begin work on this summer studentship, shadowing Professor Danesh-Meyer is awesome…hopefully the research will make a real difference in understanding the barriers for wāhine Māori in Medicine navigating their way into surgery"
Mentors involved in this programme include Professor Helen Danesh-Meyer, Ophthalmic Surgeon and Scientific Director at Vision Research Foundation, Ophthalmology Research Fellow Dr Simone Freundlich (Ngāti Tainui and Ngapuhi) who is the first wāhine Māori to enter a surgical ophthalmology programme. Naomi Manu (Rangitāne ki Wairarapa, Ngāti Kahungunu ki Wairoa) Founder and Director of Pūhoro Stem Academy and Tania Te Whenua (Tūhoe, Te Whakatōhea) Principal of Te Whenua Law and Consulting and Co-Founder of Puāwaitanga, Wāhine Māori Surgical Mentoring Programme.
www.visionresearchfoundation.org.nz